The boys jump high
by j. brotherlove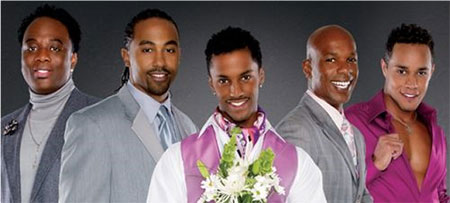 This past weekend, in New York, Los Angeles, Atlanta, Chicago and Washington, DC, fans of Logo's Noah's Arc, the first black and gay television series, flocked to the theater to watch Noah, Alex, Ricky, Chance and their loved ones reunite in Noah's Arc: Jumping The Broom. There were plenty of pre-parties, post-parties, repeat viewings and sold out shows to prove that the crew is still a hot ticket a year and a half later.
From the movie's title, you can gather the main story revolves around Noah and (on-again-off-again boyfriend) Wade getting married. The supporting stories focus on relationships, family (especially, babies), self-acceptance, love and a lot of kissing.
The location is Martha's Vineyard which is a welcome location change from Los Angeles. As we've learned from movies like Love! Valour! Compassion!, The Reception and Ski Trip, anytime you assemble gay men in upstate New York, you get revelations, sexual tension and drama. For the gang, Martha's Vineyard isn't any different.
Jumping The Broom wastes no time in tidying up Season 2's cliffhangers and moving on to the non-stop craziness of the wedding weekend. The cast slip into their established roles, comfortably. Noah (Darryl Stephens) reprises the doe-eyed clothes-horse who gets confused by what he wants; Alex (Rodney Chester) is in top form as the film's main comic relief; Ricky (Christian Vincent) rocks the "ho" role without shame; and Chance (Doug Spearman)… well, Chance just can't seem to catch a break.
Wade (Jensen Atwood) gets more emotional range, Eddie (Jonathan Julian) is still Eddie, Baby Gat (Jason Steed) is even more incorrigible and studio exec Brandy (Jennia Fredrique) is particularly hilarious. New to the group is 19-year-old Brandon (Gary Leroi Gray - yes, from the Beyoncé Pepsi commercial), a boy still navigating his sexuality.
But the most important development for the gang: They all have last names now!
Patrik-Ian Polk steps up his writing and direction, keeping the pacing of Noah's Arc: Jumping The Broom bananas. Any comparisons to a black, gay Sex & The City are fully sealed as the movie packs more black, gay shenanigans into 90 minutes than have ever been on the big screen.
As someone who had various issues with the series, I was prepared to like Noah's Arc: Jumping The Broom. I was not prepared to love it. Patrik-Ian Polk and Logo managed to create a movie that speaks directly to a black queer audience with no apologies and little explanation to others.
Sure, I have some issues with the movie: The R rating is unjustified (which isn't Polk's fault); Suanne Coy is completely unbelievable as Noah's mother (thankfully, there's Tonya Pinkins as Wade's mom) and some situations are far-fetched. But it's hard to harp on those things when the film is such a good time.
If you're unable to catch Noah's Arc: Jumping The Broom in its limited theater release (the best way to see it), be sure to order a copy of the DVD (to be released December 16, 2008). I highly recommended it!

My bf and I just saw Noah's Arc the movie last night ….It was well worth the wait!! We loved it!! We actually traveled over 250 miles to an Atlanta showing and all showings sold out way in advance… Hoping that the show comes back or another movie comes out REAL SOON!! U will not be disappointed go see the movie!! Dont hate on interracial dating thats lame gays are suppressed enough we dont need haters making it harder than it already is … See the movie you will know what I am speaking of …
I will say, that I really enjoyed the show, and was really looking forward to this movie; I am very pleased that you liked it so much, because now I am looking forward to it even more!
This is a great review J! I will definitely plan on purchasing the DVD.
Reviews remain overwhelming positive for the movie. More importantly, the films performance over the weekend has caught the attention of mainstream media.
Much like how they are scratching their heads over the success of Tyler Perry's films, Noah's Arc: Jumping the Broom, a niche, independent film has them perplexed.
From Salon.com, Black gay men are the new, um, black:
"Noah's Arc: Jumping the Broom," a big-screen adaptation of the cable-TV series about a group of young gay African-American men in Los Angeles, virtually sold out its New York, Atlanta and Washington venues and grossed a flat-out amazing $30,000 per screen.

OK, that's a notch lower than the limited release of Clint Eastwood's "Changeling," but "Noah's Arc" doesn't have Angelina Jolie, or 1/100th of Universal's marketing budget. Or any name recognition among heteros or whites. Expect a marketing scrum to erupt over the black gay entertainment audience, and no, I'm not kidding.
h/t: Cecily
It makes me really upset that they are not showing this movie in Mississippi!!!!! whats up with that?
LaToya, I'm not officially affiliated with the film but here are my theories:
1] Although the film is performing way beyond expectations, the audience is still too small for a wide release (which is *very* expensive). Instead, Logo concentrated on major cities with large, black gay populations. This will help generate buzz for the DVD release (which is only about 6 weeks away).
2] I think the film is already produced on DVD, instead of "film". This makes showing theater previews tricky, if not impossible. Most theaters are not equipped to handle swapping between the two mediums (art film theaters usually have at least one screen they can dedicate to this).
To piggyback on j.b's last comments:
1) yes, theatrical distribution is incredibly expensive; most films, be they indies or major studio tentpoles, don't make their negative cost back after box office receipts. Who knows if this is the case for "Noah" at this point, since the official budget has not been released, but I suspect that they will at least break even on box office; practically speaking, the film seems economically produced (very few locations, 15 shooting days, shot in Canada maximizing on their tax advantages, etc.)
2) The exhibition (and probably, shooting) format is indeed digital, as opposed to going through the incredible expense of producing various film prints, but the resolution for DCI standards are above DVD quality. I know that the Landmark Theaters chain has installed Qube Cinema systems in its theaters worldwide, don't know what solutions Clearview and Laemelle are providing, but soon HD Digital exhibition of films will be a reality, ideally making the process cheaper, quicker, and more versitile for filmmakers, distributors, and the theater owners.
i love season 1 and 2 and the movie i love and noah is so sweet
I would have loved to have seen the movie on the big screen, but by the time I found out it was in Philly it was already gone. I had been waiting for weeks for it to come here and I missed it, my partner and I were so disappointed; well I guess we will have to watch the dvd.
Share your love:
The ability to comment on this site is a privilege; not a right. Inflammatory, off-topic and ignorant comments will be removed. Basic XHTML is permitted (if you don't know what that means, stick to plain text).