Popular TV show hits movie screens
by j. brotherlove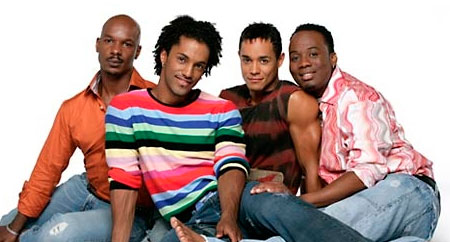 Update: Read my Film Review: Noah's Arc: Jumping the Broom
If I ever doubted the popularity of Noah's Arc, I only need to look at my referrer logs. Since the show was abruptly canceled by Logo after two seasons over a year ago, I've gotten streams of traffic looking for any hint to the proposed movie.
There has been plenty of speculation and confusion surrounding the movie, with some doubting it would ever happen. Earlier this year, series creator Patrik-Ian Polk and actor Darryl Stephens confirmed that indeed a movie was in the works.
And now, via Logo's website, we have a release date: October 24, 2008.

Suddenly, I want summer over, done with.
Smash cut to Oct. 24!
I never got into Noah's Arc the way some other GBM have. It's ok; I think I find the stories lacking and it can come off a bit amateurish. I'll probably see it for the sake of nostalgia. Do I have to go back and see the show to make sense of it?
I hope this release date is for real this time. Before the movie was supposed to debut in September. I certainly hope the two year wait is worth it!!
It is about time, I'm going to be one of the first in line. The only sad part is that Wilson Criz wasn't able to reprise his role as Junito, but hey it's all good.-QH
I'm looking forward to this one!!
i just started watchin noah arc on bet j and i got so into it, that i couldn't miss one show then i put my sister on to the show and it became our little late night riaual. i want the show back on tv so bad:0 :( it's a great show funny,educational e.t.c i give it a 10 all around
I think the show is funny, interesting and educational all in one, just like to know is the guy playing noah's boyfriend wade really gay.
is the movie gonna be released in theateres everywhere or on logo or just select places tell me please
I really love this show . cant wait for oct.24 for the movie. i love u guys so much aslo i cant wait 2 see my look alike lol u guys keep it up for the gay community .
IT'S ABOUT TIME I'M SO HAPPY IT TOOK 4 EVA BUT IT'S COMING N I CAN'T WAIT!!! I LUV THEM AND I'M GOING TO SEE THE MOVIE AND I'M NOT EVEN GAY THAT GOES TO SHOW THERER'S SOMETHING IN IT 4 EVERY BODY……
It's about time. We've been waiting 2 long
years. The cast and author of noah's arc is spectacular. I had everybody in my neiborhood looking at the logo network, when Noah's arc came on. LOGO lost and BIG SCREEN here they come. HAPPILY WAITING FOR THE MOVIE, THE SEQUEL TO THE MOVIE AND THE SEQUEL TO THE SEQUEL.
I loved that show , since it was taken off logo, the channel is pretty much useless. I love noah's arc.
I love the show and the guys. I not gay but I love watching the show. I have since every show since it started. My friend from work started me looking at the show and I have my daughter wathching it, she is 18 years old. I can't wait for the movie. I hope it is coming 2 Chicago.
Hi, I'm not gay, but I love Noah & Wade and how their storyline has worked, however I was looking forward to the new season and to what happened after the car accident. Noah, Junito & Rick are so handsome, those smiles, I surely hate they are gay, but good for some looking guy. I'm looking forward to the movie.

I fell in love with Noah's Arc. I found it during the second season and then had to back track for season one, but it was worth it. My TiVo was on overtime! I was so heart broken to know it wasn't being renewed and have been waiting what seems like forever for the movie to come out - the reruns arent cutting it anymore.
SO SAD THERE IS NO 3RD SEASON, MY DAUGHTER AND I ARE EXCITED ABOUT THE MOVIE THOUGH, AND WE DRIVE TO ANOTHER STATE IF IT IS NOT PLAYING IN OUR AREA, GOTTA SEE WHAT HAPPENED WITH WADE. HOPE THE ORIGINAL WADE WILL BE IN THE MOVIE OR IT JUST WONT BE THE SAME. LOVE THE SHOW AND THE CAST. THANKS LOGO